Forgot Password or User Name?
[Rate this topic]
If you lose your User name and Password, you must assign yourself a new User name and/or password.
To create a new password and/or User name
Click Forgot Password? on the login page.

Note: The Forgot Password link will not display if the system is not configured for automated password recovery.  If you see the link missing, contact your Rave administrator to obtain a new password.
The Lost Account Information dialog appears.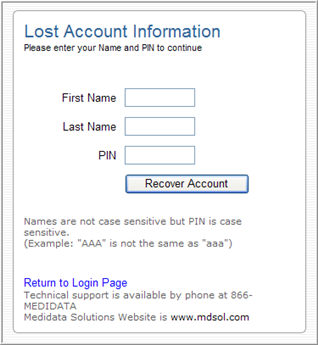 Enter your First Name, Last Name, and the Personal Identification Number (PIN).

Click Recover Account.
The system displays the New Password page.


Copyright © 2013 Medidata Solutions, Inc. All rights reserved.