End User Software License Agreement
[Rate this topic]
The End User License Agreement (EULA) indicates the terms under which the end user may utilize the licensed Rave software. The EULA will appear when a user successfully activates his or her user account and/or when the user logs in; or when the configuration for the License agreement is set up in the Configuration module and there is no record of the user's date and time agreement to the License agreement in the system.   
To Complete End User License Agreement
To access Medidata Rave® , you must activate your account using an Activation code provided by your administrator or a Medidata account administrator.
After completing all formalities with training and activating your account, you can log in to the system using your user name and password.
At the end of successfully activating your user account, log in to Rave with your User Name and Password.

The system looks for an EULA.  If there is no record of your date and time agreement to the Software License, the system directs you to the EULA page.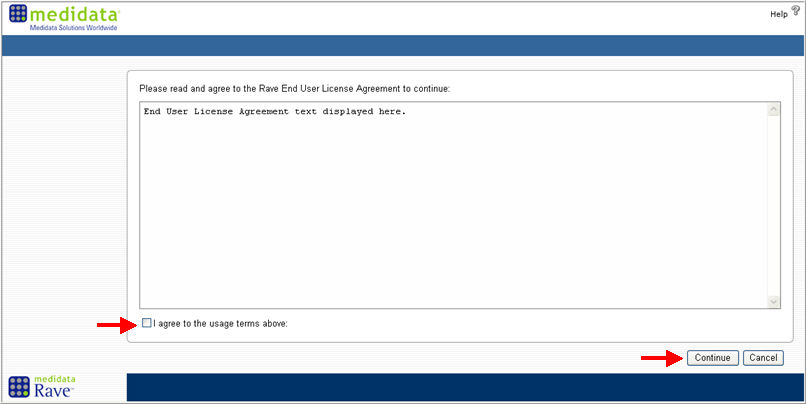 Read the License Agreement and usage terms carefully.

Check box I agree to the usage terms above: and click Continue.
The system saves the date and time of the agreement and directs you to the Rave Home page.
If you choose to click Continue without agreeing to the License terms, the system issues a warning to the effect (as shown below).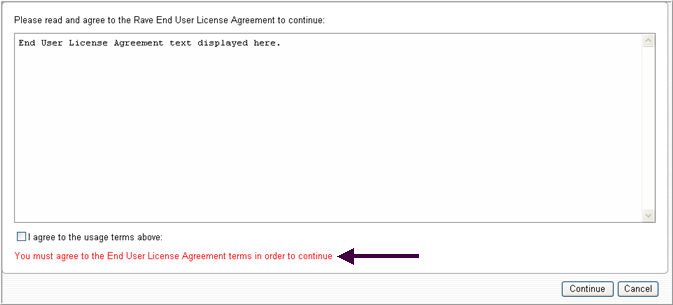 If you click Cancel, the system returns you to the Login page.  
Note: If an externally authenticated user who navigates to Rave from iMedidata clicks the Cancel button on the EULA page, the system returns the user to the iMedidata Home page.
Copyright © 2013 Medidata Solutions, Inc. All rights reserved.