Activating the Account from the Account Activation Email
[Rate this topic]
To open a new user account, a user must send a completed Account Activation Request form to an account administrator.  Upon receipt, the administrator will generate an Activation code and send it via email.
Note: If a user forgets to activate an account from a first email, the system can be configured to wait for a specified number of hours before sending out a second reminder email.  To activate this feature, the Activation Alert Time (hours) setting in the Other Settings section in the Configuration module must be checked.
To activate the account from the Account Activation email
Click the link in the Account Activation email sent to you.  
The Account Activation Request Page displays with your Activation Code automatically entered.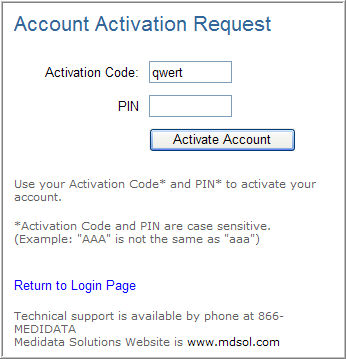 Enter your Personal Identification Number (PIN).

Click Activate Account.
You will be directed to change your password if you entered the correct information.
Note:The Administrator will receive an email message indicating whether the activation was a success or failure if the Confirm Activations setting is checked in the Configuration module Other Settings section.

Copyright © 2013 Medidata Solutions, Inc. All rights reserved.